Dog Days Press

Our Products


| | |
| --- | --- |
| | The literary hoi polloi – This publication offers an assemblage of poetry, essays, short fiction and creative non-fiction to benefit charitable endeavors. All proceeds from this anthology benefit the North Shore Medical Center through the annual Cancer Walk event. The following authors and artists are represented in hoi polloi III – A Literary Journal for the Rest of Us: Beverly Beckham, Paula J. Botch, Teresa T. Brader, Mary J. Breen, Jacqueline Cartel, Sally A. Connolly, Tristan D'Agosta, Yelena Dubrovin, Bill Dunn, Justin Evans, Vishwas Gaitonde, Geraldine Glodek, Clyde Grauke, John Grey, J. Conrad Guest, Mary Ann Honaker, Patricia Isaac, Allen Kopp, Suvi Mahonen, Peggy McFarland, Mark McNulty, Rebecca Morrison, Heather Parker, Donna Rossetti-Bailey, Terry Sanville, Adelaide B. Shaw, Steve Shilling, Fred Skolnik, Renee Summers, Luke Waldrip Phoebe Wilcox, Alexander Woodbury, Christopher Woods, and Rhonda Zangwill |
On this page we will list all of the products we offer as part of our main product line. Please check in often because we will frequently update the product pages with new items.
NEW: hoi polloi II - A Literary Journal for the Rest of Us

All proceeds from this collaborative anthology benefit The National MS Society.


Authors and artists include: Mary Agria, Brother Michael Anthony, Joanne Blundell Marsh, Paula J. Botch, Jacqueline M. Cartel, Raymond Carver (Biographical essay by Professor William Stull), Ben Cheetham, Sally A. Connolly, Jeff Cutler, Andre Dubus (Biographical essay by Christina Bieber), Bill Dunn, Christopher Facci, Grace Gannon Rudolph, Gene K. Garrison, Clyde Grauke, Rob Hardy, Carrie J. Heiman, William J. Houston, Alex Hutchinson, Ferris E. Jones, Dorian Kotsiopoulos, Jhumpa Lahiri (Biographical essay), Janice Lind, Frank Marino, Mark McNulty, Bathsheba Monk, Lorna J. Moorhead, Michael Morse, Rachel Nameika, Michael Niland, Jack O'Brien, Flannery O'Connor (Biographical essay by Ronald Weber), Joy Oakey, Andrew Peterson, Peter S. Prichard, Nel Rand, Andra Smith, Kerrie Smith, Ed Smith Jr., William Trevor (Biographical essay by Dr. Eve Patten), Matt Ulmer, Ron Wilson, Tobias Wolff (Biography and review by Benjamin Lytal), Alexander Woodbury, Virginia Young, Small Press profile – Press 53, Literary magazine profile – Rain Taxi review of books. The book encourages the 'writer in all of us' to become engaged in literary pursuits.
The Sea Shack

by Mark McNulty

"The Sea Shack", Mark McNulty's debut children's novel, is an example of how powerful and inspiring books can be. Through artful writing, Mark tells the tale of Andrew O'Brien. When his single father must go away on business, Andrew is forced to spend the summer with his grandfather on the shores of Cape Cod. He barely knows his grandfather and vows to make the summer a miserable one for everyone. He does not realize, however, that his grandfather has plans of his own. If "Grampy" has his way, Andy's summer at the sea shack will be one that changes the boy's life forever… Children and adults alike will embrace "The Sea Shack" as a touching story that strikes at their hearts with power and warmth. Through this remarkable tale, children will be highly entertained while they learn about ideals such as respect, loyalty, sacrifice, perseverance, and more. Andy's story is one filled with strong, positive role models and lessons that apply to everyday life.

.



hoi polloi
A Literary Journal for the Rest of Us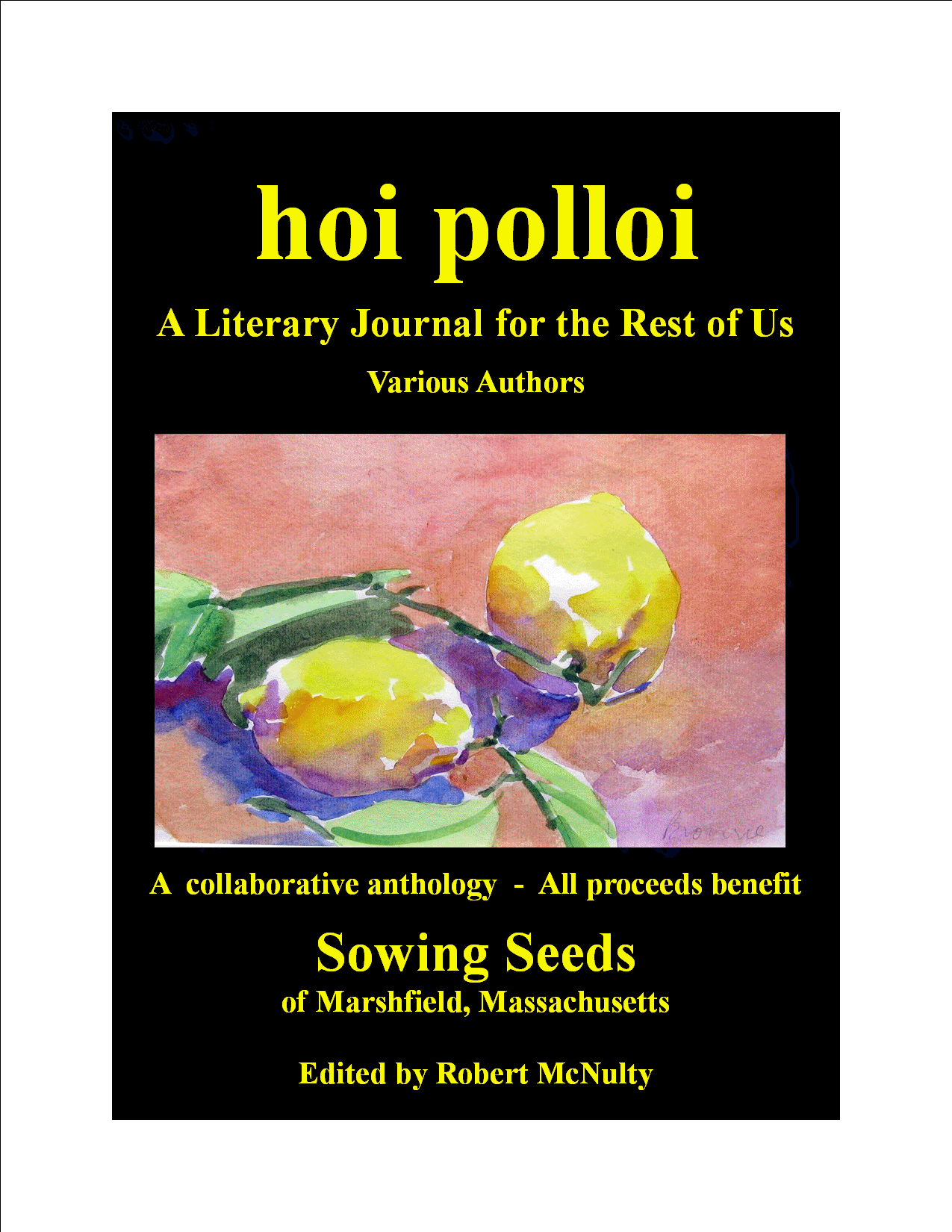 A collaborative, non-profit anthology of literary submissions and the writing craft. Authors include: Nava Atlas, Dean Baris, Janet Bornstein, Paula J. Botch, Elizabeth Bullock, Sofija V. Canavan, Sally A. Connolly, Claire Cook, Katherine Critelli, Skip DeBrusk, Karyn Donahue, Bill Dunn, Harriet Emerson,
Richard Fannoney
, Robert Feeney, Dennis Feeney, Alessandra Fisher, Dave Fisher, Ralph Fletcher, Sarah Fox, Chris Fraas, Walter C. Frye, Elizabeth Evans Fryer, Frank M. Hynes, Marilyn Johnson, Robert Laplander, Valerie Lawson, Jamie Long, Heidi Marble,
Mark McNulty
, Robert McNulty, Richard Mills, Shea Mullaney, Erin O'Brien, Jay O'Callahan, April Parker, D. T. Pollard, Stephen Puleo, Chet Raymo, Jordan Rich, William Russo, Mike Ryan, Bob Sanchez, Jackson Sellers, Tucker Smallwood, Reed F. Stewart, Renee Summers, Michael Trainor, Kimmy Van Kooten, Caitlin Womersley, Alexander Woodbury and Virginia Young. The book encourages the 'writer in all of us' to become engaged in literary pursuits. All proceeds from the sale of this book benefit Sowing Seeds of Marshfield, Massachusetts.
Beyond Beautiful - In Beyond Beautiful, rock stars Jenna Bradford and Scott Tenny managed to find love – perhaps the truest love either had ever experienced – in spite of the chaos of the worlds in which they lived. Hardly youngsters, these two arrived at the doors of love with complicated pasts and emotional baggage that would leave the sturdiest Cupid staggering.

Beyond Beautiful is the first book of The Song Trilogy.

We rejoin Jenna and Scott as their frenzied lives careen off in new and equally unexpected directions. Both stars in their own rights, these lovers share lifestyles that make normal life and love difficult, if not impossible. Somehow amidst the madness that is musical fame, these two manage to find each other and meld their lives and their music into a harmony that is as sweet as it is undeniable. As Sweet Emotions opens, Jenna and Scott are excited to be expecting a child, which can only further deepen – and further complicate – their special relationship. They continue their struggle to attain a life and happiness together that each so richly deserves, one where bitter, difficult truths can be eclipsed by Sweet Emotions.

Sweet Emotions is Book two of The Song Trilogy.